澳洲酒莊


Jim Barry
金柏瑞Jim Barry是澳洲少數獲得澳洲葡萄酒大師James Halliday評定的五星酒莊之一。
位於澳洲Clare Vally,金柏瑞Jim Barry於1959年由Jim與Nancy Barry所創立,2009九月才剛過50歲生日,現在已經是澳洲頂級酒廠。
Jim Barry於1964年購買下Armagh地區Duncan McRae Wood這裡70英畝土地,奠定了他成功的關鍵。由精選的Armagh區葡萄而釀製的Armagh Shiraz於1985年生產第一個年份,酒評家Robert Parker公開稱讚其為澳洲偶像酒之一,與Penfolds Grange、Clarendon、Henschke's Hill of Grace、Wynns Michael等澳洲酒款平起平坐。
Jim Barry的酒款富含澳洲本土風格,又包含了節制的風範,使他各個系列酒款都有很高的消費者接受度,包含使用與頂級酒Armagh同樣地區葡萄叢的McRae Wood Shiraz,風格節制而價格更優雅的Lodge Hill系列等等。

Jim Barry 澳洲紅酒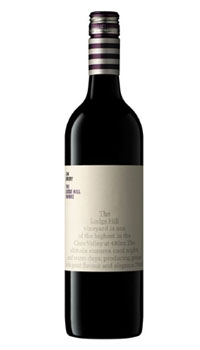 Wine Advocate 91 points
Deep garnet-purple colour. Wonderfully fragrant aromas of eucalyptus, intense blackberry, cloves and star anise on the nose. The full bodied palate is seamlessly balanced with a medium level of silky tannins and medium to high acidity. Very long, spicy finish.

Wine Spectator 91 points
Bright and effusive, slipping a spicy note into the mix as the blackberry and red cherry flavors pop. Veers toward peppermint as the finish lingers with supple texture.

Wine Enthusiast 91 points
This full-bodied, richly textured Shiraz outpunches its weight class, offering licorice, blackberry and plum aromas and fruit-driven flavors that pick up savory nuances of coffee and black olive on the knockout finish.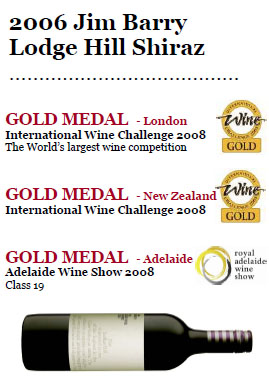 GOLD MEDAL - London, New Zealand & Adelaide

GOLD MEDAL - London
International Wine Challenge 2008 - The World's largest wine competition

GOLD MEDAL - New Zealand
International Wine Challenge 2008

GOLD MEDAL - Adelaide
Adelaide Wine Show 2008 - Class 19





https://goldentabs.com/