2019-01-17 15:24:20

五號好酒- Caymus Special Selection 美國凱穆士酒莊 卡本內紅酒(旗艦款)
「卡本內的王者-
Caymus
」
- Robert Parker
由衷獻出的極高評價
* Caymus Special Selection Cabernet Sauvignon

奠定Caymus不敗地位的旗艦酒款,1975年首次問世

兩次拿下Wine Spectator百大年度冠軍 (1984 & 1990)!!

* Caymus Special Selection Cabernet Sauvignon

全球代表性頂級佳釀之一,價格卻比其他膜拜酒來得平易近人。

僅在條件被認為足夠好的年份才會細心精釀。

* Caymus Special Selection Cabernet Sauvignon

{神之雫}第22集中是這般讚譽其風采:「美味!華麗得來又柔和豐滿,

完全沒有法國級數酒Cabernet Sauvignon那種裝模作樣、難以親近的感覺。」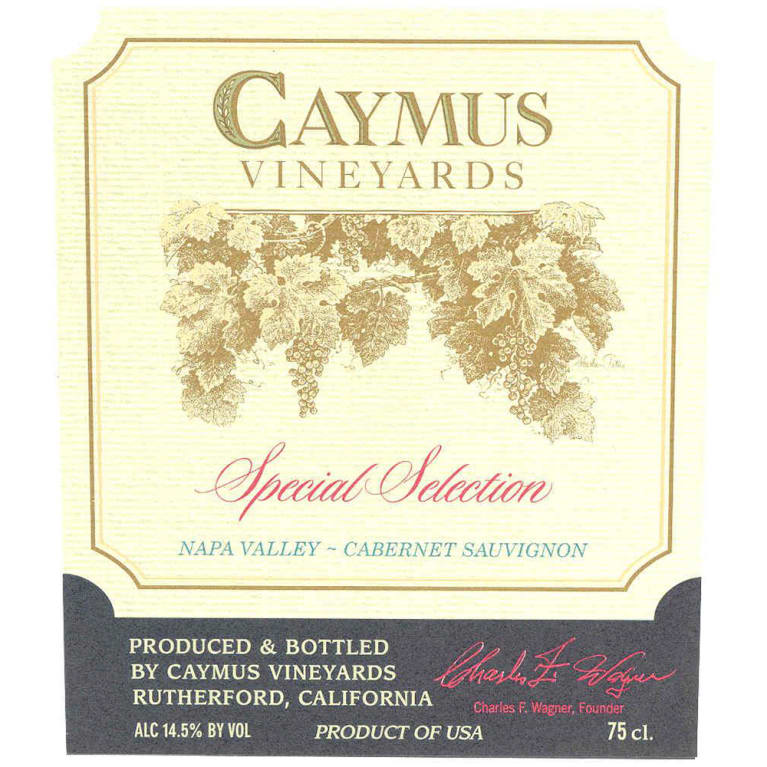 全名:Caymus Special Selection
美國知名的膜拜酒之一,使用Cabernet Sauvignon釀造,獲得Robert Pfarker極力推崇,
有『加州第一美酒』之稱,具有法國酒的優雅特質,表現優雅高貴,是酒莊的旗艦酒。
Wine Enthusiast :97 points
So delicious now, you can hardly keep your hands off it. Blackberry tart, ripe blueberry, cassis, milk chocolate, licorice and sweet, smoky cedar flavors flood the mouth, dramatically huge and memorable, and lasting long into the finish. The tannins are obvious, but sweetly ripe and soft. A brilliant evocation of Napa Cabernet, despite a high production level of nearly 30,000 cases, which is about the same size as a Bordeaux first growth. Shows the class and potency this bottling has exhibited for many years, and believe it or not, the price is a relative bargain these days.
Temptingly rich and layered, with complex mocha, plum and wild berry fruit that's spicy and aromatic. Full-bodied, gaining depth and turning ever more elegant and detailed, with tannins that give this traction.

Wine Spectator:94 points(2004)
Wine Spectator:94 points(2005)
Wine Spectator:94 points(2006)
Complex, riveting aromas of spice, cola and sassafras join wild berry, spice, black cherry and sage notes in this full-bodied, intensely flavored, tightly focused and very persistent display of fruit that's long and lingering.