2019-01-08 12:23:43

五號好酒- Meursault 3大名園之首: Louis Jadot Genevrieres Meursault 1er Cru 2010



Louis Jadot Genevrieres Meursault Premier Cru 2010





























Meursault出產的夏多內白酒口感豐美,香氣濃郁,常有熱帶水果、奶油與香草的香氣,成為夏多內重要的典範。

村內有440公頃的葡萄園,只產白酒,共有26個一級葡萄園,最精華的區域位在村南的山坡上。

其中Genevrieres、Charmes和Perrieres被推為3大名園,都有接近特級葡萄園的水準。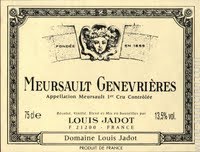 95 points Robert Parker's Wine Advocate
The 2010 Meursault Genevrieres is all about finesse. Nothing in particular stands out, rather it is the wine's silkiness and textural elegance that impress most of all. Clean saline notes frame the brisk, crystalline finish. This is a great Genevrieres that captures the essence of site and vintage. I especially like the pointed minerality here.


92 points Allen Meadows - Burghound

Soft wood frames mildly exotic aromas of spiced pear, white peach and apricot. The subtle mineral streak adds lift to the rich and round flavors that are more refined compared to those of the Charmes but not quite as intense, all wrapped in a dry, clean and solidly persistent finale. A qualitative choice.


90 points Stephen Tanzer's International Wine Cellar

Aromas of lemon, lime, elderberry, smoke and dried grass, with a hint of herbs. Vibrant but tightly wound, conveying a rather lean texture. Offers hints of hazelnut and medicinal herbs but comes across as less ripe than the Charmes. Finishes with good length, but I'm not sure I could have identified the wine's village.





17/20 points Jancis Robinson

Like the Charmes, also quite charming. But with more structure and guts and a hint of the telltale herbiness of Genevrières. Tight and promises well for the future. Needs a bit of time but there is lots of energy here.